We deliver the parcels by Sea and by Air to:
Ukraine, Belarus, Russia, Kazakhstan, Moldova, Uzbekistan, Kyrgyzstan, Estonia, Latvia, Lithuania, Poland and other countries.
Minimum weight of sea and air parcels to all countries is 5 kg (12 lbs).
If the weight of a parcel is less than 5 kg, the 5kg fee still be charged.
The maximum weight of each parcel will depend on the recipient's country:
- to Ukraine by sea or by air - 30 kg (66 lbs).
- to Russia by sea or by air - 20 kg (44 lbs)
- to Georgia, Moldova, Baltic countries, Kyrgyzstan, Uzbekistan by sea or by air - 30 kg (66 lbs).
- to Belarus by sea or by air - 10 kg (22lb)
- to Kazakhstan by sea or by air - 20 kg (44 lbs)
- to Poland by sea or by air maximum weight - 30 kg (66 lbs).
Date of parcel shipment counted from the date the of container send.
Parcel delivery must be charged for each box (pack), regardless of the number of parcels that are sent to one address.
Content insurance optional and can be purchase for 5% premium of the parcels value.
If the parcel weight is over 30 kg, it is calculated as a commercial cargo, in which case the recipient will be required to pay import duties. The amount of customs duties and customs procedure are established by customs regulations of the recipient's country.
Parcels must be carefully packed (preferably - in a cardboard box). On both sides of the parcel the full name and complete address of the sender and the recipient must be clearly printed.
Terms of delivery for: Sea parcels: Air parcels
Ukraine and other European countries 5-8 weeks 2-4 weeks
Asian, Caucasian countries and Russia 7-16 weeks 4-8 weeks
ITEMS WHICH ARE NOT ALLOWED TO SEND IN ANY PARCEL:
Firearms and ammunition, edged weapons and other specially designed for attack and defense items;
Gas lighters;
Narcotic drugs, psychotropic substances and their analogues;
Articles of indecent and immoral content;
Articles of gold, silver and other precious metals;
Any currency;
Seeds and planting material;
Cigarettes and alcohol;
Any products in aerosols;
Any liquid or perishable items. (more restrictions for a Air parcels apply)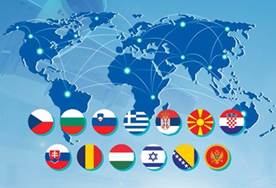 We are happy to announce the launch of 13 new destinations for parcel shipping from Canada with Svitoch-Meest:

Bosina and Herzegovina
Bulgaria
Croatia
Czech Republic
Greece
Hungary
Israel
Montenegro
Northern Macedonia
Romania
Serbia
Slovakia
Slovenia
For more information please call SVITOCH at: 204-582-5939